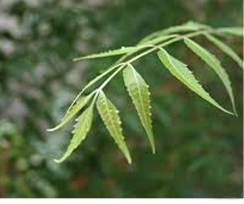 Healthy Lifestyle Tips
Earlier Neem twig (called as 'Datun' in hindi) was commonly used in India for cleaning teeth and oral health. Probably that is why even without so many dental care products (variety of tooth paste, mouthwash, floss) and dentists, people used to have much healthier teeth and gums.  Neem (Azadirachta indica) is widely known for its wide range of health benefits from its every part. It is popularly known as village pharmacy. Neem datun is chewed for a while in mouth which makes it a brush like stick that works as natural floss. Chewing releases extract that is bitter in taste but it is anti-bacterial. It protects teeth and gums by killing bacteria. It purifies blood and gets rid of bad breath. It has healing properties for any ulcers in mouth. Cavities, bleeding gums, plaque formation, and discoloration of teeth can all be checked by Neem datun. Neem can also protect from oral cancers.
With urbanization and modernization, whatever happened to Neem datun. But now toothpaste companies claim to bring back the same goodness with extracts in their toothpaste. Still what a datun can offer the tooth brushes and pastes probably cannot. Lucky are those who live in rural India and can get datun just when they want. For others it is difficult to find.  In India, scientists and ayurveda experts are trying Neem mouthwash which will protect from gingivitis and pyorrhea. Any information on sellers/ suppliers  of Neem datun is welcomed here.